Bring those precious books to us for repair!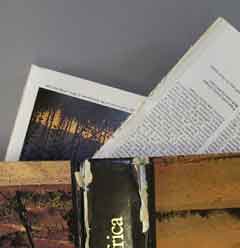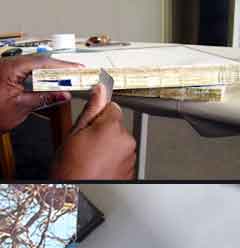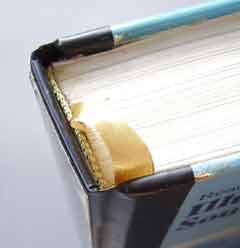 Here is a damaged book, once completely detached from its covers and broken into two parts, that has been repaired. The old glue and sticky tape is first removed, and the title section of the spine is carefully separated from the old board and neatly trimmed. The scuffed corners are strengthened with triangular pieces. The book block is glued together again, secured with strengthening threads, and the covers are re-attached together with a new spine. The title section is glued back onto the spine. Voila! As good as new!
| | | |
| --- | --- | --- |
| | | |
| A set of 20 inherited encyclopedias was ruined when the dachshund chewed up the covers of 2 volumes - no problem, we recovered and foiled them to match the set almost exactly! | | If your precious bible is falling apart like this, we do bible repairs... here is one that we reconstructed and recovered in a rich suede leather with ridged bands on the spine, gold protective corners and gold-foil stamping. |
This time it wasn't the dog - it was the two-year old daughter testing her teeth! Having ripped the spiral binding off, she then proceeded to chew up part of the stiff board cover! No problems, we reconstructed the corner that had been consumed, trimmed off the punched edges of the pages and rebuilt it, stronger than before.