Notebooks and journals come in all shapes and sizes - we do them all...
Maybe you want a classic grey-lined notebook or plain paper art journal ~~ record your travels, expenses or daily musings ~~ with or without quotations ~~ branded or unbranded ~~ with or without an elastic closure ~~ rounded or square corners ~~ a cover of plain fine-grained black or navy or printed in your corporate colours ~~ other covers of leather, fabric, etc, etc ~~ an A5 or A4 feint-lined or executive notebook covered in something smarter than stationery shop sells - the options are endless!
This is the classic notebook with a fine-grained cover, grey-lined pages, rounded corners and an elastic closure.
Paper can be lined or unlined, white, ivory or feint-ruled. Text (eg, inspirational quotations or corporate content) can be added, and the cover can be branded.
An expanding pocket for memorabilia, expense slips or other items can be attached to the back cover.
| | | |
| --- | --- | --- |
| | | |
| A corporate gift - an A5 notebook with silky-smooth pages, covered with soft moleskin fabric and with a silk marker ribbon. | | Lore is a wonderful artist (contact us if you want to commission a flower painting!). The vellum parchment endpapers perfectly complement the gold cover that has an inset of one of her own paintings - how special can you get! - and the journal pages feature the same flower painting. |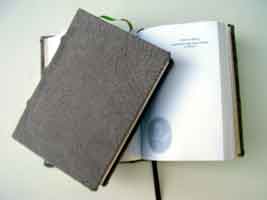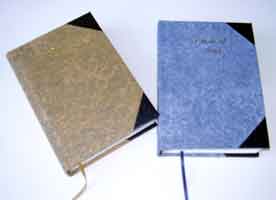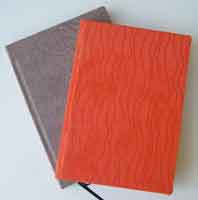 A selection of A6 notebooks, some bound in suede cloth (brown with an animal-hide finish and bright orange with a wavy pattern) and two quarter-bound in a lovely textured vinyl with black corners and a foiled title.
The first photo, with ridged bands on the spine, shows its contents - a notebook featuring wonderful insults culled from Shakespeare's plays
(ever wanted to tell someone that "he has not so much brain as earwax"? Order a copy for yourself or as a gift!)
Notebooks for corporate gifts and for delegate use at conferences and events are very popular. In A5 or A4, landscape or portrait layout, they can contain blank pages or feint-lined paper. Branding in hot-stamped foil, blind debossing or an attached badge can be done to finish them off. Books can be covered in a variety of fabrics to match your company image (eg, the tartan at left or many shades of plain fabric), in imitation leather or in real leather (the crocodile print leather at right is very popular).
| | | |
| --- | --- | --- |
| | | |
| Here is stack of leather-bound notebooks in black leather, going off to be used as corporate gifts. | | These promotional notepads are A6 in size - but they can be made in any size and format, with whatever content you want. The front covers can be also be foiled in gold, silver, etc. The inside pages can have quotations and feature a logo, an illustration, your own name & contact details ... |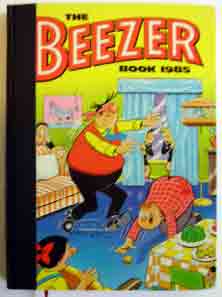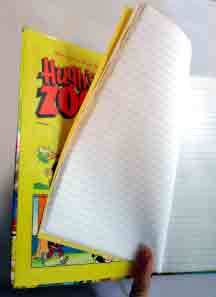 This is a fun idea to liven up the company boardroom - the standard blue-lined notebook is bound into a recycled cover from a second-hand bookshop!
Give the staff something to laugh about when they see what each other is "reading".
These notebooks are fun alternative to the plain black type. Made to order and covered in attractive vinyl with the person's name gold or silver foiled on the front, they both have rounded corners, elastic closures, lined pages and a marker ribbon, with a pocket for loose bits of paper on the inside back cover..
| | | |
| --- | --- | --- |
| These classic black A6 notebooks with cream-coloured pages, elastic closure and back pocket have been foiled with the company logo as corporate gifts. | | Magnificent polished brown leather notebooks as gifts for the overseas directors. The A5 notebooks have custom-printed cream-coloured pages and elastic closure, personalised in silver foil. |