Here is a small selection of some of the many books we have bound - each one is different...
Leather spine with ridged bands and leopard-print

fabric cover, with a slipcover of black novalon, for a corporate retirement gift written by

Your Life Stories

.

These memoirs of a retired banker were put together from text and photos supplied to

Your Life Stories

, beautifully laid out, printed on archival paper and bound in red sheepskin nappa leather covers with ridged bands on the spines.
A selection of books with different covers. We can privately publish your family tree, family history, 21st birthday book...

Company Registers, Minutes Books,
Attendance Registers, etc.
A variety of A5 and A4 books in portrait and landscape layouts, finished in fabric, leather and wipe-clean imitation leather and vinyl.

An A4 book covered in suede
leather with bands, or ridges, on the spine and brass corners.
A swatch of cover ideas - anything from leather to imitation leather, upholstery or dress fabrics, wipe-clean vinyls to fabric suede ...

This A5 Landscape book, put together from photos and stories by

Your Life Stories

, was a 60th birthday gift from the daughters. It has a really special feature - a photo inset into the front cover - stunning!
Also from

Your Life Stories

, this photo and memory book detailing the round-the-world yacht trip taken by a South African family. The book was originally put together a few years ago, and a set of reprints ordered in 2008 for the rest of the family.

Once again from

Your Life Stories

, 20 personalised copies of a storybook commissioned by the most wonderful teacher as gifts for her class. The stories were written using the words and numbers learned during the year, and illustrated to match. We bound all these A5 Landscape books in bright, cheerful, wipe-clean covers.
Several people who saw the original journal shown in the Notebooks page have ordered these for themselves. A beautiful journal inspires one to write!
Often referred to as "journaling", writing on a daily basis can be therapeutic, inspirational, something to pass on to your children, the start of a career or simply relaxing!
It can also be an amazing tool to help one cope with depression, chronic fatigue syndrome and other health issues.

The story for this book in memory of her late husband was written by a client of

Your Life Stories

, who then did all the editing and layout, restored the photographs where necessary, and put the whole book together.

It was bound in dark brown textured vinyl to set off the lovely paintings done by the subject of the book, and one of those was inset into the cover. The title in gold foil finished the book off.

Ten copies (and more to come) were made for various family members in memory of a well-loved man.
A set of philosophy books that were presented to graduating students, covered in red faux leather and blue sheepskin nappa leather, each foiled with the student's name.

These custom-made files were constructed to fit the contents - family records - in a matching set
| | | |
| --- | --- | --- |
| | | |
| The memoirs of a farmer in Africa were printed on high quality ivory paper and bound in hardcover with a photograph and text printed on the front and back. What a wonderful family legacy! | | Yello! These square promotional books for that well-known company required a small cutout on the front and back covers to show through to the first and last pages, and an elastic closure. We had a repeat order on these. |
| | | |
| --- | --- | --- |
| | | |
| An art student's typographic project, an album and a book had to be made to the same unusual size of a CD cover. The title was done in silver foil. | | This very special book was a marriage proposal - letters and images, that culminated in a "will you marry me" page, were printed on gloss paper and UV-varnished for a glossy, coffee table book finish. Bound in dark red imitation leather with a gold-foiled title, the pages were individually stitched for the edge-to-edge layout. |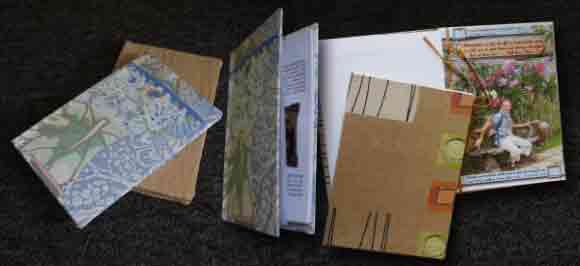 Several "brag books" and photo books made up as keepsakes for family members, covered in attractive fabric
| | | |
| --- | --- | --- |
| | | |
| A groom's romantic gift to his bride, who loved the movie "The Notebook" - this black sheepskin leather book starts with the story of how they met and goes up to the wedding, followed by lined pages to record their lives together! | | The memoirs of the client's grandfather were bound as an A5 journal with a semi-soft cover in this gorgeous polished brown leather. A fitting binding for a slice of history from missionary days, the Boer War and First World War through a long career. |
| | | |
| --- | --- | --- |
| | | |
| The donor copies of an NGO's annual report were bound with a full-colour, laminated cover. | | For delegates on a course with a "Top Gun" theme, these ringbinders were made up in to look like well-used logbooks with covers of a battered leather look. |
This was such a great book to make!

For a client in the UK, who privately published a fantasy epic written by her boyfriend. The cover is a slightly rough, ochre-coloured leather decorated with corners, spine and raised bands in smooth brown leather. The marker is a narrow strip of brown leather.

It had to look like an olden day, medieval, mystical sort of volume... and it feels marvellous in the hand as you page through it.